By Newsweek |
Florida Man Hunting Iguanas Misses and Shoots Nearby Pool Guy Instead
A Florida woman has warned parents to protect their children after an iguana hunter shot her pool maintenance technician.
On Friday, pool maintenance workers arrived at the property where E-Lyn Bryan lives in the coastal city of Boca Raton, southeastern Florida. At the same time, an iguana hunter armed with a pellet gun was patrolling the residence, NBC 6 South Florida reported.
Bryan told the broadcaster she went outside to see what the workers were doing. Recalling the moment she saw a man she described as her "pool guy" get shot, she told the broadcaster: "I heard him scream on the top of his lungs 'oww' and he had blood coming out of his leg."
Bryan realized the pool worker had been struck by a man looking for iguanas. "He was shot by the hunter," said Bryan.
According to the Florida Fish and Wildlife Conservation Commission, green iguanas are considered pests as they damage sidewalks, seawalls and landscape plants.
Nevertheless, the Boca Raton resident urged others to be cautious when it comes to controlling the population.
"We have iguanas everywhere, if neighbors are gonna be like the Wild West and shoot at everything someone's gonna get killed," she told NBC 6 South Florida.
Bryan said her neighbors were "horrified" when she told them about the incident. Police and paramedics were called to the scene, according to the outlet.
"You need to protect your children. The kids fish back here all the time," warned Bryan.
Steve Kavashansky of local trapping firm Iguana Busters, which was not involved in the shooting, explained to NBC 6 South Florida that his team wears clothing which makes it clear they are hunters, and hire ex-police and military personnel who are good shots.
The animals are considered to be such a nuisance in the state that the Florida Fish and Wildlife Conservation Commission urges residents to kill them. On its website, the agency stressed the species is not protected in Florida, other than by anti-cruelty laws.
"Homeowners do not need a permit to kill iguanas on their own property, and the FWC encourages homeowners to kill green iguanas on their own property whenever possible," the statement read.
Members of the public can also kill iguanas in 22 public lands in south Florida without a permit, including the Fisheating Creek stream flowing into Lake Okeechobee.
In a separate interview with WKNY 40, Kavashansky said populations of the green lizards are higher than normal because of a mild winter.
"We are in South Florida so let's be real, we are not going to get rid of all the iguanas, all we can hope to do is control and prevent them from coming back," he said.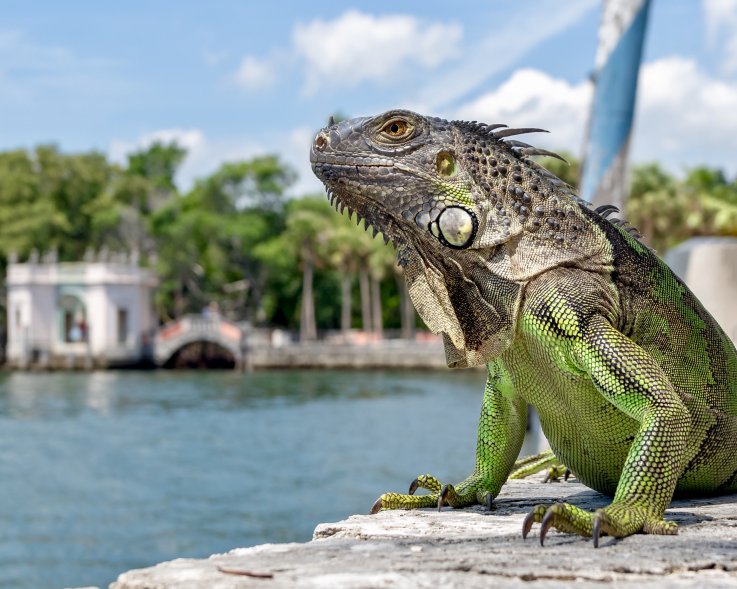 A stock image of an iguana in Florida, similar to the creatures the hunter was searching for on E-Lyn Bryan's property. Getty