By Newsweek |
Mega Millions Results, Numbers for 7/9/19: Did Anyone Win the $107 Million Jackpot on Tuesday (Last) Night?
Those wanting their numbers to come up from the draw at 11 p.m. ET on Tuesday night (July 9) Mega Millions lottery will have to wait another few days for a chance to win the big one.
That is because no one netted the estimated jackpot prize of $107 million with a cash-value option of $70.3 million.
The winning numbers on Tuesday were 12-26-40-48-64 with a gold Mega Ball of 01 while the Megaplier was 2X.
With no one taking home the jackpot, it will now be added to the next draw, due to take place on Friday 12 July at 11 p.m. ET. The jackpot prize will now swell to $121 million, with a cash option of $78.6 million.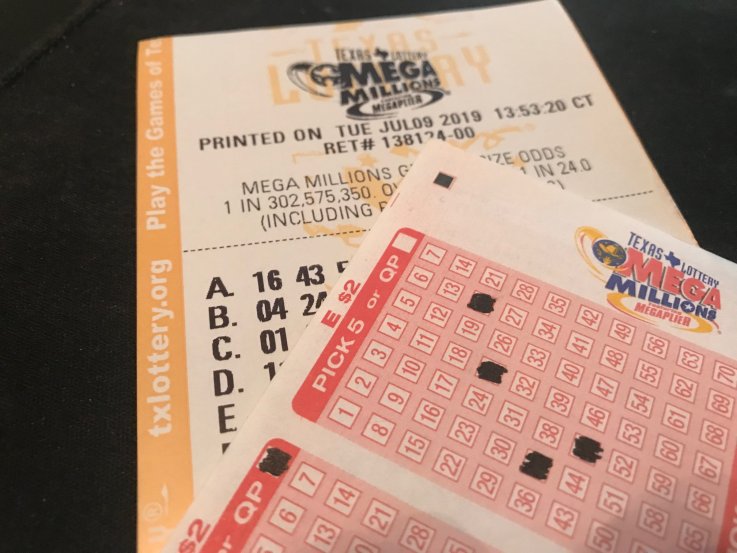 A photo of a Mega Millions ticket from Texas in July 2019. Photo by Scott McDonald/Newsweek
However, on Tuesday night one person did manage to win $1 million after they matched five balls. There were also 11 winners of $10,000 for those who managed to get four balls, plus the Mega Ball.
The tickets for the Mega Millions lottery cost $2 and can be bought at more than 23,000 California Lottery retailers or any one of the 4,000-odd Lottery Lucky retailers.
How to win?
Players choose five white balls between one and 70 as well as one gold Mega Ball, numbered between one and 25.
Ticket buyers must choose five white balls numbered 1 through 70, as well as one gold Mega Ball numbered 1 through 25. In order to win, the numbers you select on one row must match the numbers of the balls drawn on that date.
There are nine ways to win a prize, from $2 all the way up to the jackpot, which if it is not won, is added to the jackpot for the next draw. The Mega Millions website lists the chances of winning a prize of any amount as one in 24.
How is the top prize paid out?
The lucky winner of the jackpot can choose to get their money either as a cash lump sum or an annual payout.
How this is administered varies from state to state, but with the annuity option, the winner gets one immediate payment, followed by 29 annual payments.
Each year, the payment is 5 percent bigger than the previous year, to take into account inflation and help protect the winners' lifestyle.
For example, someone who won $100 million in the jackpot, would get a first payment of $1.5 million, and the subsequent payments would increase each year, to a maximum of $6.2 million.
It pays to hang on to your ticket tight. In January this year, Michael Wiersky won an eye-watering $273 million but almost lost the ticket when he purchased it, temporarily forgetting the ticket on the retail counter.
Luckily, someone spotted the ticket and gave it to the clerk. Unable to find the ticket at home, Weirsky returned to the store to collect it before the draw and then his numbers came up.