By Faribault Daily News |
Farming professionals shown tips to handle stress in midst of sagging farm economy | News | southernminn.com
People who work with farmers and farmers themselves were given tips to handle difficult conversations in the midst of a sagging farm economy Tuesday at South Central Community College in Faribault.
The event was part of the Navigating Conflict & Tough Conversations in Agriculture discussion put on by the Minnesota Department of Agriculture, a workshop designed to help ag professionals, some being regulators and insurance agents, navigate potentially contentious situations. Other such events are taking place in Detroit Lakes, Thief River Falls, Duluth, Marshall and St. Cloud.
The conference comes as farmers across the country are struggling due to long-lasting depressed commodity prices. In Wisconsin alone, the number of dairy farmers has decreased by more than half since 2004, according to the Milwaukee Journal Sentinel.
University of Minnesota Extension office Educator Denise Stromme led the conversation, sometimes having participants engage in hands-on activities that illustrate the way humans interact with each other and the surrounding environment.
She spoke of the importance of being mentally present in a conversation that could bring conflict.
She said it is important to greet people, smile and dress well, along with focusing on eye contact and keeping cell phones out of sight. The importance of being organized when delivering troubling news to farmers was discussed, as it is a sign of respect.
Stromme stressed the importance of being positive, focused and proactive in finding solutions to difficult conversations. To her, offering options farmers will be able to follow through on and having an agreed upon goal is essential. She noted when people are placed into stressful situations, thoughts and feelings are processed in the part of the brain that processes emotions, not the critical thinking portion. She said slowing down the conversation to accommodate that might be needed.
Stromme suggested regulators and other people who visit farmers develop a relationship and possibly place a phone call before coming to a farmstead. She also said following up with a phone call two or three days after a visit is a good idea.
Stromme noted conflict must be seen as not being against a person, but with the separate needs and wants of represented groups.
She said seven of the main resistors to change are a perceived threat to one's self-interest or that of a farm, uncertainty over possible change, a lack of confidence that the change will be successful, a lack of conviction that change is necessary, a distrust of who made the policy or regulation, a perceived threat to personal values, land or natural resources or a fear of being manipulated.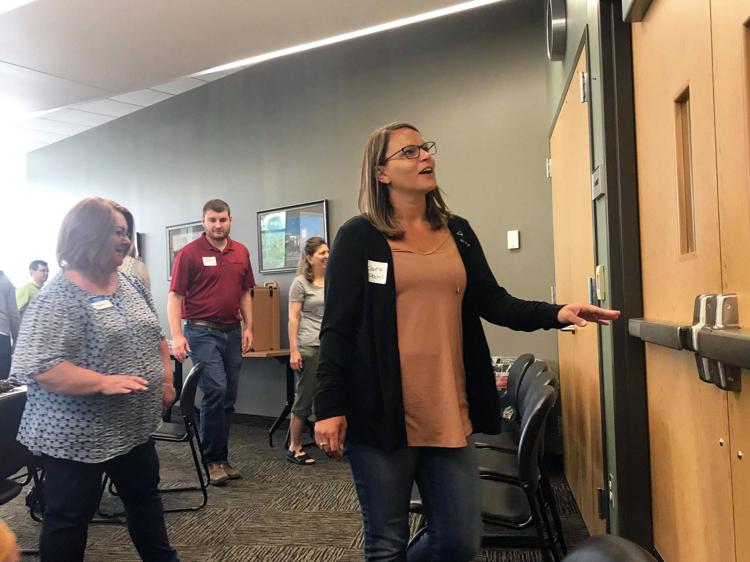 Participants engage in hands-on activities to heighten their awareness of the importance of properly tackling difficult conversations Tuesday morning at South Central Community College. (Sam Wilmes/Northfield News)

By SAM WILMES swilmes@northfieldnews.com
At one point, Deborah Mills, who farms near Lake City, said threats and intimidation from lenders and regulators do not work.
"What we need is compassion, kindness and understanding," she said.
Mills, a dairy farmer, said she is not sure where milk prices will be consistently, making it difficult to plan financially.
Following the meeting, Mills said the stressful situations other farmers are in motivated her to attend.
"I wanted to have some ideas of how to have tough conversations with my neighbors who I know are struggling and who are wondering what their next step is," she said.
"Everyone's living with the fear of losing the farm, but you're not just losing the farm, it's not just a financial situation. It's your legacy, it's the generations that came before you. It's the feelings of inadequacy that, 'How come I couldn't make it and the other previous generations could make it?'"
Mills predicted if the sagging farm economy continues, the consolidation of farming operations will likely continue as has happened in pork, poultry and beef farms. She said without animal agriculture, sustaining a rural landscape is difficult because it supports other rural businesses like veterinary clinics, hardware stores and grocery stores.
Rice County Sheriff Troy Dunn, who just began his third term in office, spoke of situational preparedness, including for possible situations involving a homicidal or suicidal person, in the wake of a number of farmer suicides in recent years in the midst of the sagging economy.
At one point, Dunn was asked what safety precautions should be for someone traveling to a farm to tell a farmer their operation would be reduced in size or closed.
Dunn advised possibly bringing co-workers and forming a plan beforehand in case the situation gets out of hand.
In a press release announcing the events, Agriculture Commissioner Thom Petersen noted the current difficult ag economy.
"Farmers are having a tough time right now," he said. "There's a lot on the line, and we recognize that lenders, agency staff, clergy, educators, veterinarians, agricultural advisors and business people can find themselves in situations where emotions run high."
Land Stewardship Project Farm Beginnings organizer Karen Stettler said she was glad such events are taking place. She called for empathy in encounters with farmers and non-farmers.
"If you come across as heavy-handed and blunt, there will be a difference in response," she said. "I think it is exactly the same with farmers. I think we need to treat people as human beings."