By Newsweek |
VidCon 2019 Lineup: Lala Milan, LaurDIY, ChandlerNWilson, CrankGameplays, Tré Melvin in Creator Keynote
VidCon 2019 is taking place between July 10 and July 12, 2019, in Anaheim, California. You can find out about how to buy tickets by reading Newsweek's guide: Where and when is VidCon 2019? How to Buy Tickets.
Who is speaking at the VidCon keynotes?
On July 11, Neal Mohan, chief product officer at YouTube and a senior vice president at Google, will be giving an industry keynote on the future of video, new programs and product updates on YouTube which will spark opportunities.
Randall Rothenberg, CEO at IAB, will be giving a keynote on July 12, 2019, which provides an in-depth illustration and analysis of how direct brands are transforming the way consumer goods are created, marketed and sold.
There will be an array of content creators taking part in the Creator keynote on July 13, 2019. Lala Milan, LaurDIY, ChandlerNWilson, CrankGameplays, Tré Melvin, and more will be talking about their own journeys and providing words of wisdom to their audience.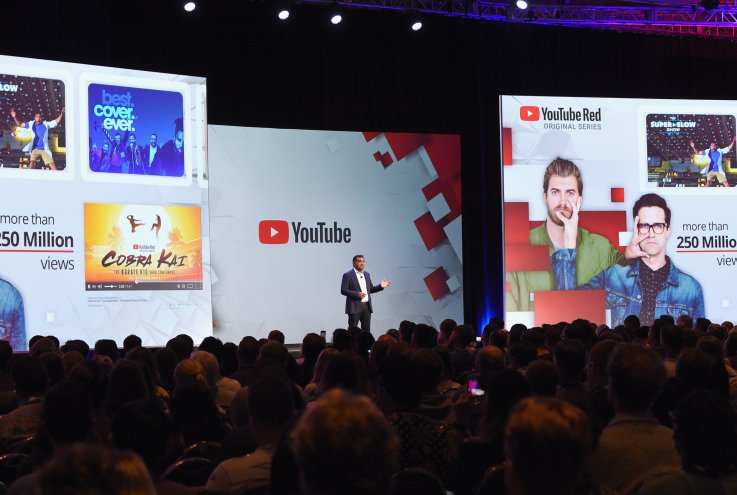 YouTube Chief Product Officer Neal Mohan speaks onstage during the YouTube Keynote: Building Communities and the Next Generation of Media Companies Panel during VidCon at Anaheim Convention Center on June 21, 2018 in Anaheim, California. FilmMagic for YouTube/Getty

What is the schedule of events at VidCon?

Wednesday, July 10, 2019

5:00 p.m. to 7:00 p.m: VidCon Industry Pre-party

Thursday, July 11, 2019

4:00 p.m. to 4:45 p.m: YouTube Keynote 5:45 p.m to 8:00 p.m: Industry Track Reception 6:30 p.m. to 8:00 p.m: YouTube OnStage

Friday, July 12, 2019

6:30 p.m. to 9:30 p.m: Awesomeness Live! 7:00 p.m. to 8:30 p.m: Stand-up Comedy Night 7:00 p.m. to 9:00 p.m: VidCarnival

Saturday, July 13, 2019

4:00 p.m. to 6:00 p.m: Creator Track Keynote 5:30 p.m. to 7:00 p.m: The Night of Awesome 6:00 p.m. to 8:00 p.m: Creator Track Reception Sponsored by RØDE 9:00 p.m. to 12:00 a.m: Twix Prom

Sunday, July 14, 2019

2:30 p.m: Disney Day Photo at Disney California Adventure Park, Paradise Pier

The full list of creators participating is below:

Liza Koshy Brent Rivera David Dobrik Cristine (Simply Nailogical) Andrea Russett Rhett & Link Ned Fulmer, Keith Habersberger, Zach Kornfeld and Eugene Lee Yang (The Try Guys) Colleen Ballinger Emma Chamberlain Joey Graceffa Rickey Thompson Calle & Poché TheOdd1sOut JaidenAnimations Guava Juice Jacksepticeye Mykie (Glam&Gore) Aaron Kyro (Braille Skateboarding) Aaron's Animals Adam Bianchi AdamW Adelaine Morin Alex Wassabi Alexis G. Zall Alisha Marie Alphacat Alyson Stoner Amber (Ambers Closet) Ana Alvarado (Lipstickfables) Andrew Ilnyckyj Andrew Rea (Binging with Babish) Andrew Rose Gregory Angelica Anna Rothschild (Washington Post) Annie LeBlanc Annie Segarra (Annie Elainey) Anthony Padilla Aphmau Ash Hardell Ashly Perez (itsashlyperez) Azzy (AZZYLAND) Ben Relles (Head of Unscripted Programming - YouTube Originals) Benny Fine (CCO - FBE) Boogie2988 Brad Leone (Bon Appétit) Brandon Rogers Bretman Rock Bria and Chrissy Brittani Louise Taylor Brooklyn & Bailey Brother Nature Caeli Case Walker Cash Nasty Chad Wild Clay ChandlerNWilson Chantel Houston Charles & Allie Trippy Charlie McDonnell (charlieissocoollike) Chase Ross (uppercaseCHASE1) Chris Klemens Christine Sydelko Claire Saffitz (Bon Appétit) Colby Brock (Sam and Colby) Courtney Miller (SMOSH) Coyote Peterson Craig Benzine CrankGameplays Curly Velasquez (The Curly V Show and Buzzfeed's Pero Like) CypherDen DSharp (iamDSharp) Daily Bumps Damien Haas (SMOSH Games) DangMattSmith Daniel Howell Danielle Bainbridge (Origin of Everything) Danny Gonzalez Dave Days David Choi DeStorm Power Denzel Dion Devin Lytle (Ladylike) Dianna Cowern (Physics Girl) Dobre Brothers Domics Dominic Toliver Dormtainment Drew Gooden Drew Lynch Echo Gillette (echoisweird) Editing Is Everything Eh Bee Family El Guzii ElleoftheMills Ellie Thumann Emmy Cho Eric Ochoa (SUPEReeeGO) Evan Gregory Evelyn From The Internets Familia Diamond Freddie Ransome Gabbie Hanna Gilmher & Jayden Croes (CroesBros) GingerPale Glen Henry Goodnight Moon Grace Helbig Gus Johnson Haley Pham Hank Green Hannah Hart Hannah Meloche Heath Hussar HellthyJunkFood (JP Lambiase & Julia Goolia) IamSanna Ian Hecox (SMOSH) InquisitorMaster JaNina Jack Conte (Co-Founder and CEO - Patreon) Jack Douglass (jacksfilms) Jake Roper (Vsauce3) Jarvis Johnson Jason Nash Jay Shetty Jayden Bartels Jazz and Tae Jazza (Draw With Jazza) Jc Caylen Jelly Jen Ruggirello Jenn McAllister (jennxpenn) Jenny Lorenzo Jesse Underhill Jesser Jessica McCabe (How to ADHD) Jessie Paege Jibrizy Joana Ceddia Johann Vera John Green (vlogbrothers) Jon Cozart Josh Leyva Josh Sundquist Julia Nunes Justine Ezarik (iJustine) KREW Kaleb Nation Kandee Johnson Karina Garcia Kat Blaque Kati Morton Keith Leak Jr. (SMOSH) Kelsey Impicciche (BuzzFeed Multiplayer) Kevin Lieber (Vsauce2) Kristen McAtee Kristin Chirico Kristopher London (LSK) Kwebbelkop Kyle Exum Kyle Hanagami LDShadowLady Lala Milan Larray Lasercorn (SMOSH Games) LaurDIY (Lauren Riihimaki) Laura Prepon Lauren Godwin Leroy Sanchez Lindsay Ellis Lolo (Sitting Pretty) Louie's Life Luke Korns MacDoesIt Mahogany LOX Mamrie Hart Manny The Frenchie Mari Takahashi (SMOSH Games) Mark Rober Markian Matt Slays Matt Steffanina Matthew Brian Brown (SwiftKarate Chop) Matthew Patrick MattyTingles Maya Washington Merrell Twins Mia Stammer Michael Aranda Michael Buckley Michael Gregory Michael Reeves Michael Stevens (Vsauce1) Michelle Khare Mike Falzone Mikey Murphy Miles Jai Miles McKenna Mitchell Davis Molly Templeton Molly Burke Molly Lewis Montoya Twinz Motoki Maxted MyLifeAsEva Nabela Nala Cat Natalie Casanova (TheZombiUnicorn) Natalie Wynn (ContraPoints) Natalies Outlet Nena Next Town Down Nia Sioux Niana Guerrero Nicholas Amyoony (NickEh30) Noah Boat (LoveLiveServe) Noah Grossman (SMOSH) Norbert the Dog Nyma Tang Olga Kay Oliver Moy Olivia Sui (SMOSH) Our Fire Pamela Horton PauTips Phil Lester (AmazingPhil) Poppy Q Park Rachel Ballinger Rachel Levin Rafi Fine (FBE) Ranz Kyle Rebecca Parham (Let Me Explain Studios) Rebecca Zamolo Remi Cruz Rhino (LoveLiveServe) Ricky Dillon Rosanna Pansino Rosy McMichael Ryan Bergara Saffron Barker Safiya Nygaard Sam Golbach (Sam and Colby) Scotty Sire Sean Evans (First We Feast/Hot Ones) Sebastian Moy Sebastián Villalobos Shalom Blac Shan Boody Shane Madej Shayne Topp (SMOSH) Simmi Singh Smallishbeans Sofie Dossi SomeThingElseYT StacyPlays Stephanie Patrick Steven Lim Stevie Boebi Strawburry17 Summer Mckeen Tabbes Tana Mongeau Tay Zonday Taylor Darling (ASMR Darling) Teala Dunn (ttlyteala) Tessa Violet The Bramfam The Crazy Gorilla Thomas Sanders TimTom Timothy DeLaGhetto Trevor Moran Tristan Jass Tré Melvin Tyler Williams Vanessa Hill (BrainCraft) Venus The Two Face Cat Vy Qwaint Walter Geoffrey the Frenchie Will Hyde (TheWillofDC) William Osman YouTwoTV Zach King Zane Hijazi Ze Frank iHasCupquake (Tiffany Herrera) illymation itsAlexClark shaycarl shgurr wolfgang2242