By Newsweek |
Rudy Giuliani: Michelle Obama Was 'Cruel' to Not Defend Joe Biden from Racism Charges
Rudy Giuliani has questioned why former first lady Michelle Obama did not take the opportunity to back presidential candidate Joe Biden in his racism row with fellow Democrat Kamala Harris.
The former mayor of New York and lawyer for President Donald Trump was responding to an interview that Obama gave CBS This Morning co-host Gayle King at the Essence Festival in New Orleans.
During the wide-ranging conversation on Saturday night, King asked her about the recent spat between Harris and Biden.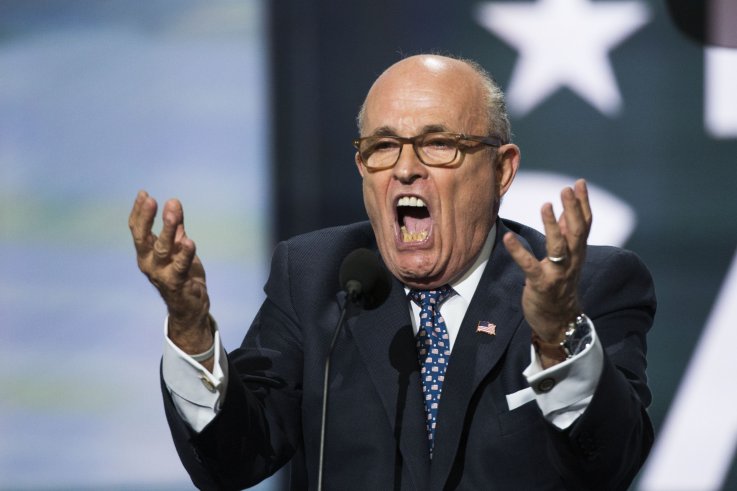 Former New York City Mayor Rudy Giuliani pictured on July 18, 2016 at the Quicken Loans Arena in Cleveland, Ohio. He has criticized former first lady, Michelle Obama, for not defending Democratic presidential candidate, Joe Biden, over charges of racism. Brooks Kraft/Getty Images
Biden was put under fire during the first Democrat presidential debate when Harris questioned him about how he touted his good relationship with two prominent white supremacist lawmakers while he was a senator.
A particular bone of contention for Harris was Biden's early-career opposition to federally mandated busing, in which black students were transported to schools in predominantly white neighborhoods, which Harris said she benefited from.
King asked her, "What, if anything, would you like to say about the Kamala-Biden dust-up… You have been following that, do you have any thoughts about that?"
Obama replied: "I do not," before adding, "I've been doing this rodeo far too long," ABC News reported.
Biden had a close relationship with the Obamas. He served as Barack Obama's vice-president and just before he left office, the former president bestowed upon him the presidential medal of freedom with distinction, describing him as "my brother."
Giuliani felt that Obama should have backed Biden in the row, tweeting: "Michelle Obama's failure to defend Joe Biden against charges of racism was cruel.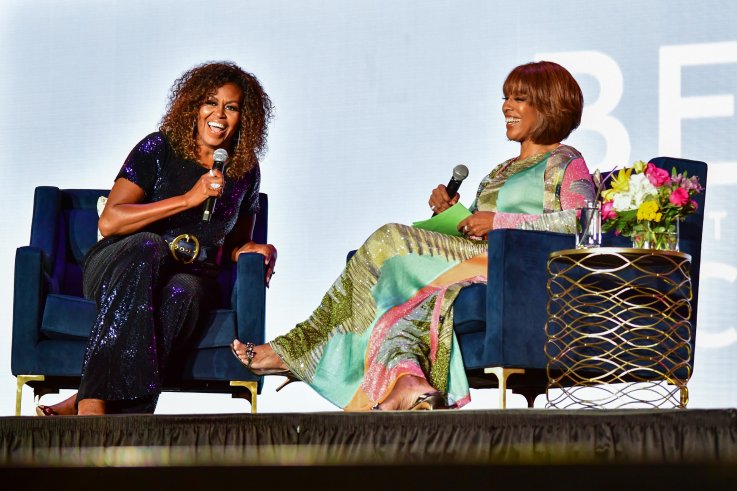 Former First Lady Michelle Obama (L) is interviewed by Gayle King during the 2019 ESSENCE Festival at the Mercedes-Benz Superdome on July 06, 2019 in New Orleans, Louisiana. Erika Goldring/Getty Images
"The Obamas owe Biden a defense against false charges. Biden's actions in Ukraine and China and his intellect are real issues. Racism is not. This is like the Obama race attack on Bill Clinton."
Last Saturday, Biden apologized for his remarks that he worked with segregationists, Democratic senators Herman Talmadge and James Eastland in the 1970s, saying, according to Bloomberg: "Was I wrong a few weeks ago to somehow give the impression to people that I was praising those men who I successfully opposed time and again? Yes, I was, I regret it."
Michelle Obama also refused to be drawn on any of the Democratic presidential candidates, telling King, "It's very early. It is like trying to figure out who is going win the World Series after the first seven games. We're watching everyone, we're supportive of everyone. We are giving advice to whomever seeks it."